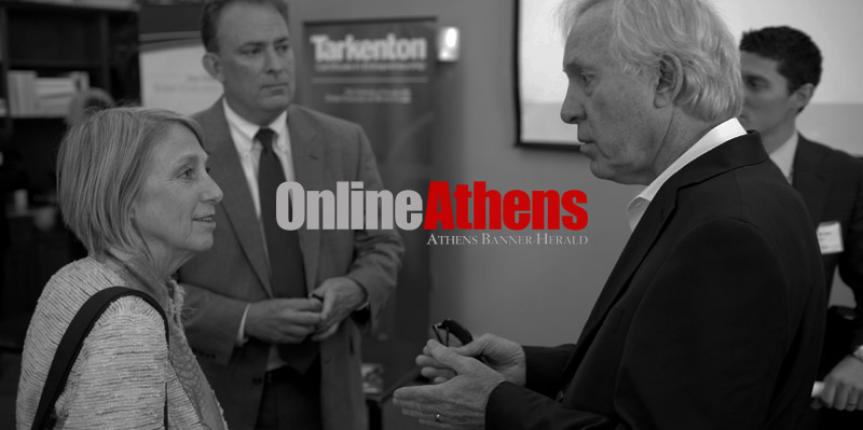 Fran Tarkenton is coming back to the University of Georgia and his hometown of Athens — not literally, but digitally.
The Athens High School standout quarterback who led the Trojans to a 1955 state title, and would take UGA's Bulldogs to the Southeastern Conference four years later before spending 18 years in the NFL and earning a 1985 induction into the Hall of Fame, also quarterbacked a successful business career for himself.
Now, he's teaming up with UGA's Terry College of Business to offer the Tarkenton Certificate in Entrepreneurship, an online presentation of MBA-level instruction from UGA business school professors as well as people making it in the business world.
The self-paced program, which requires no previous college experience, is priced at $850, with proceeds going both to the Terry College and to the Tarkenton Institute, a subsidiary of Tarkenton Companies focused on entrepreneurial education and development.
According to Tarkenton, the certificate program traces its roots to the 2013 induction of Pat Dye, a UGA football standout at guard in the late 1950s and a teammate of Tarkenton's, into UGA's Circle of Honor. At the induction ceremony, Tarkenton and UGA President Jere Morehead had a conversation about how Tarkenton could become more involved with the school. The Tarkenton Certificate of Entrepreneurship is the result of that conversation, Tarkenton said.
The certificate program — more information is available online at https://live-tarkenton-org.pantheonsite.io — got its formal rollout during a Thursday presentation at the Athens Area Chamber of Commerce, as Tarkenton and Terry College Dean Ben Ayers introduced it to a room full of local business people.
"This is the only place we'd go to kick it off," Tarkenton said.
The certificate program was developed after Tarkenton, whose own group of businesses has been involved for some time in helping small businesses, began talking with small business owners to find out about their questions and their needs.
Tarkenton's desire for the course, he said in an interview prior to Thursday's rollout, is to reach the truly small businesses in America, whose owners don't necessarily have ready access to the people featured in the certificate program, people who can provide a wide range of knowledge that will be of direct benefit to those business owners.
"There's been nothing targeted to this segment of people," Tarkenton said, calling the certificate program "an MBA-level curriculum without the MBA price tag."
"We can't guarantee success," Terry College Dean Ben Ayers said at the rollout, "but we can provide them (business owners) with a knowledge base."
Tarkenton was quick to differentiate the certificate program from traditional online business education offerings.
"It's not about 'The Five Secrets to Success,'" Tarkenton said. The certificate program, he said, "has rigor in it."
Ayers said the Tarkenton Certificate in Entrepreneurship is part of the Terry College's move to offer instruction online.
"A key component is the public-private partnership you see here," Ayers said, going on to note that many of the Terry College professors participating in the certificate program are offering the same instruction available in their MBA-level classes.
According to Ayers, the certificate program "takes you across the skill set" needed to be successful in business. The program includes 60 hours of video instruction and requires participants to put in 100 hours of work before earning the certificate.
Ayers went on to say that the certificate program dovetails with the college's mission to foster economic development across the state, which he called "one of our highest priorities." The Tarkenton Certificate in Entrepreneurship is "a great way of broadening our reach" in Georgia and beyond, Ayers said.
"Small business is extremely important in this state and elsewhere," Ayers said. "All businesses start out as small businesses."
*Originally published by Athens Banner Herald